FOR THOSE WHO WANT
REAL YOGHURT
FOR THOSE WHO WANT
REAL YOGHURT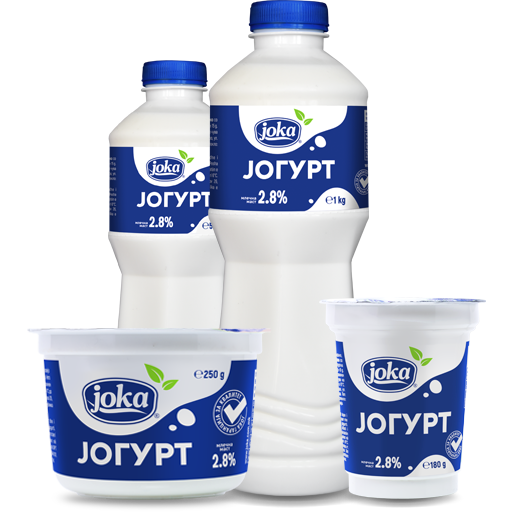 Joka's yoghurts are healthy for the whole family. They contain useful ingredients necessary for proper growth and development. These are balanced proteins, dairy fats, carbohydrates, vitamins, minerals and natural probiotics which are even more present in Jo Plus.
The high percentage of dry matter and optimum amount of fat give this product its recommended nutritional values. The ratio between the proteins and the fats, the content of microelements and vitamins make it an ideal food for children, athletes, unwell persons and for anyone with increased physical activities.
The balanced sour taste and the density make it a proper and recommended beverage for breakfast, between meals, but also for moments of high exertion and fatigue. It is as if this yoghurt has been made for real gourmets, and besides being a source of all the necessary vitamins and minerals in the human diet, it also has a recognisable traditional-refreshing taste.
Go ahead and enjoy JOKA Yoghurt because it's made for everyone who wants and knows what a REAL YOGHURT is.
| Milk fat | Carbohydrates | Proteins | Energy value | Packaging/Emballage |
| --- | --- | --- | --- | --- |
| 2.8 gr | 3.1 gr | 3.5 gr | 228 KJ / 54.5 Kcal | 180 gr, 250 gr, 500 gr, 1 kg / PS и PET |