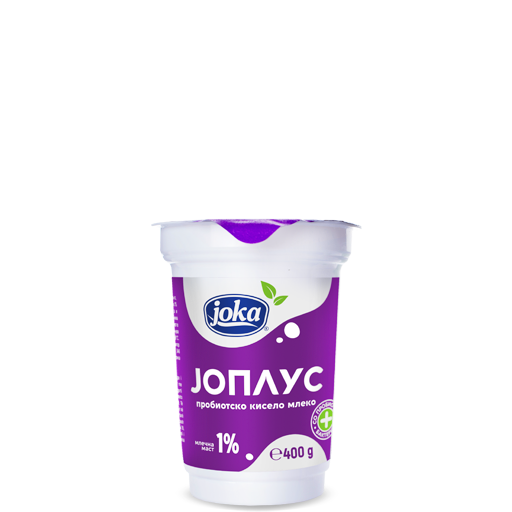 Joplus Probiotic 4 soured milk is produced from fresh cow's milk, enriched with the BB12 bacterium, known as a friendly bacterium for our organism.
The Joplus soured milk comes from the same program of probiotic products JOPLUS. It has similar composition and same values in the addition of bacterial cultures as the JoPlus yoghurt. The benefits to the human health from regular consumption of this product are substantial and similarly as the Joplus yoghurt, it has a beneficial effect on the balance of normal microflora in the gastrointestinal tract.
JOPLUS soured milk, NATURAL PROBIOTIC PLUS!
| Milk fat | Carbohydrates | Proteins | Energy value | Packaging/Emballage |
| --- | --- | --- | --- | --- |
| 1 gr | 3.5 gr | 2.5 gr | 228 KJ / 54.5 Kcal | 400 gr / PS |