SOURED MILK
WITH RICH AND REFRESHING TASTE
SOURED MILK
WITH RICH AND REFRESHING TASTE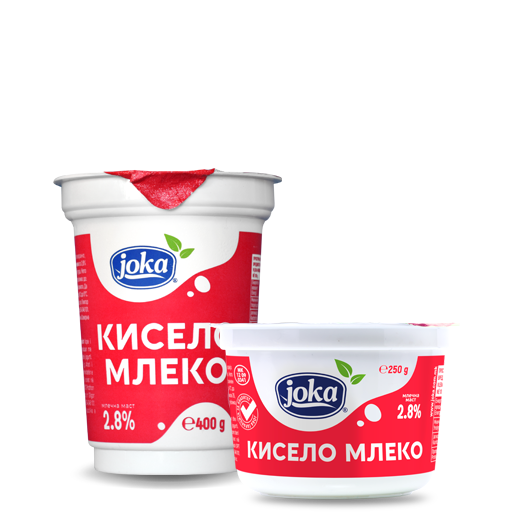 JOKA SOURED MILK with rich and refreshing taste.
JOKA's soured milk is a natural protector of your organism because:
It is a source of balanced protein.
Contains vitamins (B12, choline, B1, B2, B6, C, A, D, E, K) and minerals (calcium, magnesium, potassium, phosphorus and sodium)
Milk fats and amino acids improve mental health, cognitive functions and learning.
The cow's soured milk which we produce from pasteurised milk is a real specialty and addition to your kitchen and dining table.
Made according to the consumers' taste, it can be consumed separately but also as an addition to salads, dishes or baked goods. It is a real source of protein and recommended fats.
The high calorie value, but also the excellent nutritional value makes it a high-quality product for all consumers.
| Milk fat | Carbohydrates | Proteins | Energy value | Packaging/Emballage |
| --- | --- | --- | --- | --- |
| 2.8 gr | 3.1 gr | 3.5 gr | 228 KJ / 54.5 Kcal | 250 gr, 400 gr/ PS |