FOR A DAILY DOSE OF
REFRESHMENT AND HEALTH
FOR A DAILY DOSE OF
REFRESHMENT AND HEALTH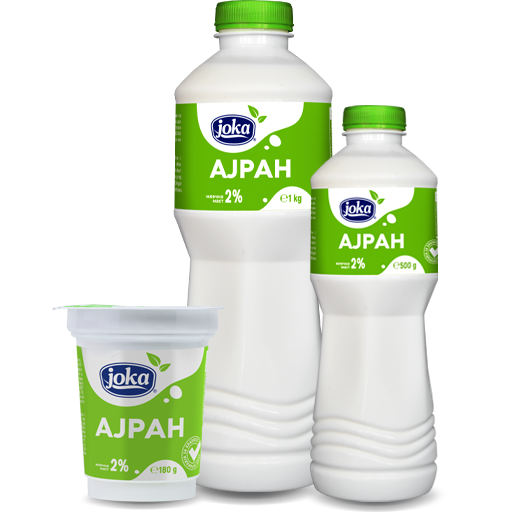 JOKA AYRAN for a daily dose of refreshment and health!
Joka's Ayran replenishes your lost electrolytes and minerals, refreshes and revitalises your organism. Ayran for all the nostalgics who passionately speak and remember buttermilk – a refreshing beverage, as food or drink for hot days, as a beverage which helps recovery and revitalisation.
A skimmed product obtained by lactic acid fermentation of pasteurised milk. Excellent food and protein-rich drink. Recommended product for those who do not want to give up milk and dairy products, as an essential part of today's diets to lose weight and maintain good health.
The contents of the lactic acid bacteria make it a real remedy for the micro-flora in the digestive system. Excellent product for all those who care about their weight or those who have problems with the gastrointestinal tract.
| Milk fat | Carbohydrates | Proteins | Energy value | Packaging/Emballage |
| --- | --- | --- | --- | --- |
| 2 gr | 3.1 gr | 3.5 gr | 172 KJ / 41 Kcal | 180 gr, 500 gr, 1 kg / PS и PET |