THE SMILE
COMES IMMEDIATELY AFTER THE FIRST BITE
THE SMILE
COMES IMMEDIATELY AFTER THE FIRST BITE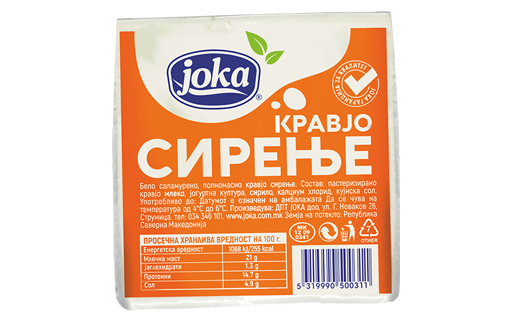 Whole milk JOKA cow's cheese is produced from the highest quality pasteurised milk, which, due to the traditional way of processing, retains the taste and the aroma.
With more than 45% fat, mostly unsaturated fatty acids, it is an excellent food product. It contains high quality proteins and essential amino acids, vitamins and minerals such as calcium, phosphorus and magnesium.
The amounts of vitamins A and B as well as its easy digestion make it a recommended product for children, elderly persons, athletes but also for those who care about proper nutrition.
| Milk fat | Carbohydrates | Proteins | Energy value | Packaging/Emballage |
| --- | --- | --- | --- | --- |
| 21 gr (45% in s.m.) | 1.3 gr | 14.7 gr | 1068 KJ / 255 Kcal | 500 gr / vacuum |